MGS-GAB02air booster unit for sale
Views:8 Author:Site Editor Publish Time: 2020-09-18 Origin:Site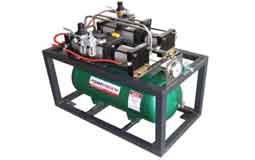 MGS-GAB02air booster unit (air charging system)
when the driving gas source pressure of pneumatic tools is not enough, pressurize the pipeline gas source of 3-4 kgf / cm2 to 6-8 kgf / cm2, so as to improve the working efficiency of pneumatic tools and meet the requirements of underground coal mine operation. The power of the air supercharging system is 3-4 kgf / cm2 compressed air, pure pneumatic pressurization, no power supply, safe and explosion-proof.
Product details:
Brand:ODMT Model:GAB02 MGS-GAB02
Material:aluminum alloy Origin:China
Province:Shandong City:Jinan
Model:GAB02(without tank) MGS-MAB2(with tank)
Driven model:pneumatic
Driven air pressure:2-8kgf/cm2;
Outlet air pressure:2-16kgf/cm2;
Maximum outlet air flow:1200L/min。
Product selection standard;
The product is selected according to the working pressure and air consumption. When the diameter of driving cylinder is the same, the higher the boost ratio, the smaller the output flow.
Product customization:
This product is directly supplied by our factory and belongs to direct marketing. If there are other needs, our company can also customize the air booster pump and air supercharging system with higher pressure and greater flow. You are welcome to call us at any time.
Product advantages:
1.Small occupation space: can reduce half space than traditional air compressor;
2.Energy saving and environmental protection: the automatic air supercharger is usually used for some equipment in the workshop that needs high air pressure. Compared with the reconstruction of high-pressure gas station, the automatic air supercharger is more energy-saving, more environmentally friendly and has lower noise.
3.Safe operation and explosion-proof: it is driven by compressed air and does not need power supply, so it can be used in coal mine, chemical industry and other extremely flammable and explosive hazardous environment.
4.Easy to install: through the compressed air, the outlet can directly output 2 times of pressure gas, connect to the air source interface of the equipment, and adjust the output pressure steplessly according to the use pressure.
5. Automatic pressure control: when the outlet pressure reaches 2 times of the inlet pressure, there is no need for electronic control, and the pneumatic pump automatically stops boosting and no longer consumes energy.
Other applications:
1.Laser cutting machine purging (nozzle less than 2.0 mm, can use this product).
2.3-coordinate and 4-coordinate measuring instrument. The air booster unit can be used when the air pressure is low.
3.This product can be used for pressure vessel, valve, pipe fitting and other products for pressure test or pressure maintaining air tightness test.
4.This gas supercharger can be used when high pressure air source is needed for calibration of pressure gauge.
5. Air cylinder for pneumatic fixture can be used in case of insufficient air pressure.
6. When mold demoulding and hot runner needle valve pressure is insufficient, the air pressurization system is used.