Pressure Gauge Fatigue Test Bench
Views:0 Author:Site Editor Publish Time: 2020-08-20 Origin:Site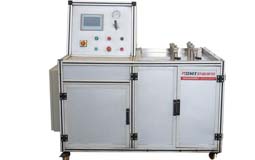 Pressure gauge overpressure fatigue test bench mainly conducts pulse fatigue test to examine its fatigue life and fatigue reaction, that is, to test the reliability and precision of pressure gauges. This device adopts hydraulic drive. The output oil (water) pressure is in direct proportion to the pressure of hydraulic pump. The corresponding pressurized high-pressure oil (water) can be gained through adjusting the pressure of hydraulic supply. The pulse pressure can be set through pressure controller. The system unloads automatically after reaching the set pressure and can pressurize in repetition to test the pressure gauge in circulation until it achieves the set pulse times. So this system has the characteristics of high-level automation, adjustable output pressure, simple operation, reliable performances, wide range of applications, etc.
Technical Parameters:
1.Type: hydraulic drive and control system
2.Text medium: hydraulic oil or water
3.Text pressure: designed according to customers' requirements
4.Pulse frequency: adjustable within 0.1-1HZ
5.Number of the test pieces: designed according to customers' requirements
6.Single circulating time: Maximum 1,000,000 times (settable)
7.Control mode: PLC control; users set the test pressure, pulse times and pulse frequency manually; after reaching the set text times, the machine stops automatically and alarms.