MCT series pneumatic hydraulic cylinder
Views:3 Author:Site Editor Publish Time: 2020-07-10 Origin:Site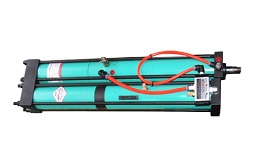 The main products of stamping equipment branch of Jinan optimistic fluid control equipment Co., Ltd. are pneumatic and hydraulic power amplifier cylinder type stamping equipment, rivet-less connection mold, rivet-less connection equipment, bolt and nut press mounting machine, pressure assembly production line, etc. it is a Sino foreign joint venture specializing in the research and development of pneumatic and hydraulic force increasing equipment and related automation equipment.

MCT series pneumatic hydraulic cylinder Features:
fast forward and return force, high travel speed, short structure.
Impulse pressure: 2-500kn;
Total stroke: up to 200 mm;
Force stroke: up to 40mm;
Air pressure: maximum 8 bar;