Main characteristics of CNC busbar processing machine
Views:3 Author:Site Editor Publish Time: 2020-09-09 Origin:Site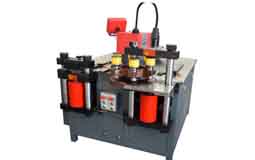 The shearing unit uses sharp shearing, the incision interface is flat, no droop and burrs and waste, beautiful shape.
The punching unit uses an united six-mode template in tooth shape to make sure the upper mold and the lower mold are absolutely in the center, improve the mold concentricity and longten the working life.
*The bending unit adopts independent worktable, and the three processing units work at the same time without affecting each other. The horizontal bending and vertical bending can be completed by changing the die. Bending angle digital control, directly input copper bar thickness and angle, or input height and side length on the book control touch screen, and directly process the required workpiece (such as z-bend), bending accuracy ± 1 ° and repetition accuracy ± 3 °. The user can input the processing data in advance, and the system can call out the data for processing according to the input information; the field data of the processed workpiece can be stored in the system at any time and called out for reuse.
*The machine is equipped with four casters and can be easily moved to the desired place. There are two operation modes of manual button and foot switch. The operation is simple and the workers can easily use the operation. According to the requirements of users, different molds or fixtures can be configured to complete the special shape processing.The bending unit uses an single-decker working tab le, which can make sure that three working positions can do their operations at same time without bothering the others.