cnc busbar processing machine for sale
Views:5 Author:Site Editor Publish Time: 2020-06-01 Origin:Site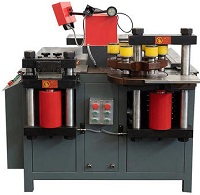 cnc busbar processing machine Feature
1. This machine provide the efficiency and guarantee of safety requirement and the design of form a complete set of equipment .
2. The machine is equipped with: bending, cutting, punching functionality.
3. Punch holes without burr,Cutting surface smooth and cutting angle accurately. it is good for puick and repeat batch procession.
4. High flexibility , small volume , big power , high production capacity and high work efficiency .
5. Safe and firm pedal switch could control oil inlet and oil return.Low noise ,harmless processing .
6. Finishing product is beautiful and won't cause pollution to the environment .
cnc busbar processing machine Application
This processor is suitable for making large electric cabinet ,power distribution cabinets ,switch cabinets and power transmission and distribution construction engineering construction site use.Suitable for transmission and distribution in a large workshop and site work, construction, and power distribution cabinets and switch cabinets, etc.me.