gas-liquid booster cylinder clinching equipment for sale
Views:0 Author:Site Editor Publish Time: 2020-04-11 Origin:Site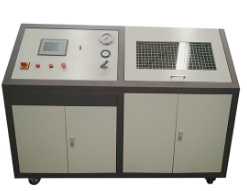 gas-liquid booster cylinder clinching equipment Product Description
ODMT Powerpackage-----high-energy-saving cylinder with one-piece sealed hydraulic oil system and automatic starting force stroke system. The pressing pressure is 2-2000KN, the total stroke is up to 400mm, the force stroke is up to 80mm, and the force stroke of the split type Powerpackage cylinder is larger.
Features: Power bypass release system, hydraulic buffering function, complete gas oil isolation device.
gas-liquid booster cylinder clinching equipment Advantage
*The speed is faster than the hydraulic transmission, and the air pressure transmission is stable;
* With fast and small force in place, that is, "soft force", it can greatly protect the mold and workpiece damage, and quickly return, can improve efficiency; automatic force increase - at any position within the total stroke range, the mold can contact the workpiece Achieve automatic force increase without the need to adjust the mold;
* Simple device, easy to tell, easy to maintain;
*The unit price of equipment is lower than that of hydraulic equipment;
* Power source is easy to access, storage is simple, and the working environment is clean;
* Pneumatic control system, simple and reliable, easy to operate;
* Low price and low cost of use;
* The pressure and stroke are adjusted freely within the specified range;
* Low operating temperature, no overheating or leakage;
*Working noise is small;
* Light weight and easy to handle.
we are gas-liquid booster cylinder clinching equipment manufacturers,If you want to buy gas-liquid booster cylinder clinching equipment,pls contact us.