PLC control gas booster station(Model:MGS-OMA40-L)
Views:2 Author:Site Editor Publish Time: 2020-09-11 Origin:Site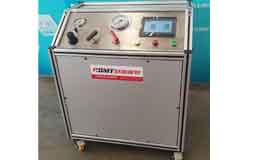 Application fields of gas pressurization system:
1. Provide power source for pneumatic tools;
2. The secondary pressurization of the compressed air in the factory, the input of high-pressure gas into the reactor, and other occasions where high-pressure gas is needed;
3. Secondary pressurization of various gases in bottles;
4. Air pressure detection of pressure components such as pipes, valves, joints, pressure vessels, etc;
5. It is suitable for static air pressure test and leakage test in other occasions, such as radiator, condenser pipe, compressor shell, heat exchanger, CNG automobile pipe joint, etc;
The performance and characteristics of the gas supercharging system are as follows
1. The equipment is light and light. Easy to move, easy to use and maintain;
2. The equipment is designed without lubrication, no power supply, no electric spark, completely explosion-proof;
3. Odmt pneumatic pump is used to pressurize the low-pressure gas into high-pressure gas, and the output pressure can be adjusted steplessly, which is suitable for the pressure range of 2MPa to 160MPa. The corresponding gas pressurization system can be customized according to the actual needs of users;
4. The odmt pneumatic pump adopts special isolation seal. There is an isolation chamber between the driving chamber and the pressurization chamber, so the pressurized gas is not polluted;
5. All high-pressure pump valves and pipelines are made of imported stainless steel and equipped with high-pressure gauges of corresponding pressure levels, which are suitable for most gas media such as nitrogen, hydrogen, oxygen and air;
6. The reference dimension (length, width and height) of the equipment is 800mm * 400mm * 550mm, and the specific dimension is subject to the actual dimension of the delivered equipment.
Gas booster models
Model

Outlet pressure (MPa)

Flow (L/min)

PL=6Bar

PA=6Bar

Weight

Dimension (mm)

gas

MGS-OMA02-L

0.2-1.6

412

PA=6Bar

60KG

800*600*950

Air, nitrogen, helium, carbon dioxide, neon, argon, methane, acetylene, natural gas and other inert gases

MGS-OMA05-L

0.35-4

169

PA=6Bar

60KG

800*600*950

MGS-OMA10-L

0.55-8

196

PA=20Bar

60KG

800*600*950

MGS-OMA25-L

1-20

81

PA=20Bar

60KG

800*600*950

MGS-OMA40-L

1.5-32

49

PA=20Bar

60KG

800*600*950

MGS-OMA60-L

2.5-48

61

PA=40Bar

60KG

800*600*950

MGS-OMA100-L

3.5-80

39

PA=40Bar

60KG

800*600*950
Remarks: the test case can be customized according to customer needs.