What are the applications of Safety Valve Calibration?
Views:4 Author:Site Editor Publish Time: 2020-08-25 Origin:Site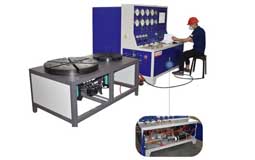 *Safety Valve Calibration Table
* Range of application: Test the set pressure, setback pressure and tightness performances of direct loaded safety valves and pilot operated safety valves.
* Executive standard: TSGZF001-2006, GB-T12242-2005, GB-T12241-2005, GB-T12243-2005
Technical Parameters:
(1)Maximum drift diameter: DN400mm
(2)Maximum test pressure: 60 MPa
(3)Pressure test precision: Pressure gauge of 0.4 grades (More precise pressure gauge can be chosen.)
(4)Test medium: Nitrogen, compressed air or clean water (Medium with dual-use for gas or liquid can be produced.)
Main functions and characteristics:
(1)This equipment has advanced design principle, with air driven liquid pump as its clamping pressure source and air driven gas booster as its test pressure source. It is equipped with a gas cylinder, which can conduct the test continuously.
(2)The test pressure is adjustable and the rate of pressure rise is settable.
(3)The clamping pressure source and the test pressure source use imported booster pumps from America or Germany. They have a wide output pressure range.
(4)All the high pressure valves, pipe fittings and connectors are imported from abroad, to ensure their pressure level, safety and reliability. Most gas or liquid media are applicable.