Gas booster system for sale
Views:2 Author:Site Editor Publish Time: 2020-07-08 Origin:Site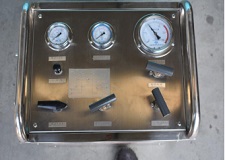 Odmt company can customize various gas pressurization systems with odmt gas booster pump as the core according to customers' needs, which can be widely used in gas drive, gas filling, air tightness test, pressure test and other fields, with the maximum pressure up to 160MPa.
Odmt gas booster pump has advanced technology, simple operation, convenient and reliable use. The gas pressurization system can work continuously unattended and stably output the set pressure. When the set pressure is reached, there is no energy consumption. When the pressure is lower than the set pressure, it can automatically supplement the pressure.
Typical application of gas booster system
Static and dynamic test of aerospace accessories after maintenance.
Safety valve calibration.
Bubbling test of valve and wellhead equipment in water.
Automobile brake system test.
Communication cable inflation equipment.
Charge aircraft tires and hydraulic accumulators with nitrogen.
High pressure nitrogen gas filling in auxiliary injection molding.
High pressure gas system and instrument testing.
Demineralization, such as reverse osmosis and desalination.
Provide pressure to test and calibrate natural gas components.
provide power for acoustic equipment to record the depth of the well.
Study on the flow pattern of high pressure gas.