Pneumatic-Driven Pumps for sale
Views:0 Author:Site Editor Publish Time: 2020-04-27 Origin:Site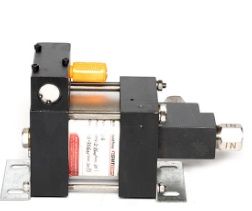 pneumatic pumps incude air-driven liquid pumps with high flow capacities that are ideal for pressure testing and chemical injection. The range offers a wide choice of configurations based on pump type and functionality with the capability of working under both high and low operating pressures. They are also designed within an easy to use package and are easy to install. Our pneumatic pumps are suitable for a wide variety of applications, serving many of today's major industrial markets.
Product introduction
This series of pump uses single pneumatic non-equilibrium gas distributing valves to move to and fro automatically. The drive parts of the pump are made of aluminum alloy. These parts are treated with oxidation into black to ensure their good-looking appearance and stainless performance.
The fluid contacting parts are made of carbon steel or stainless steel according to different media. The full set of sealing parts is imported, to ensuring pumps' performances. The diameter of drive piston is 100mm. The maximum drive pressure is 10bar. We suggest customers use air pressure≤8bar to ensure long lifespan of the pump.