Pneumatic-Driven Pumps manufacturers
Views:3 Author:Site Editor Publish Time: 2020-04-29 Origin:Site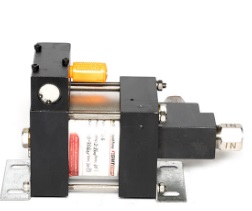 We are Pneumatic-Driven Pumps manufacturer for high pressure pumps and valves with high and stable quality, and we have made many pressure testing system solutions for many customers.
Pneumatic-Driven Pumps adopt aluminum alloy and stainless steel materials ,Gas boosters are suitable for the oil free compression of air and Industrial gases like Nitrogen, Helium as well as flammable and risk gases like hydrogen, oxygen and natural gas. GTB Series are single acting and single stage driven type. This series of pump driven piston diameter is 160 mm.
Pneumatic-Driven Pumps are air driven pressure from 2 to 10bar (29 to 145 psi) by the normal air compressor. Basically the principle of operation is similar to a reciprocating amplifier where control of the piston at the end position is reciprocating , The automatic reciprocating motion of the piston is controlled by a built-in four-way valve. Provide maximum operating pressure up to 80 M pa.
Pneumatic-Driven Pumpsuses compressed air to drive large area end piston to small area end to get high pressure gas output.. Can be used for compressed air and other gas, the output pressure can be adjusted by inlet valve, Gas booster pump is suitable for compressed air, nitrogen, helium and argon gas, oxygen, hydrogen, methane, natural gas and other inert gas, Can pressurization most gases. The output can ensure gas is not contaminated. Automatic pressure maintaining. The pressure stability. Driven by gas, No spark or Flame and No generating heat, Can use it in dangerous places.