Pressure Bursting Test Equipment for sale
Views:0 Author:Site Editor Publish Time: 2020-06-29 Origin:Site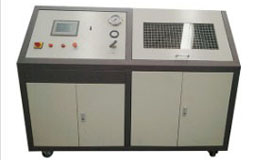 Pressure Bursting Test Equipment Product characteristic:
1,Equipped with mud line booster pump, can be easily achieve output pressure arbitrary adjustable, control, memory instrument to record instantly blasting pressure.
2,Advanced technology, reasonable structure design, compact size, light weight, beautiful and tasteful.
3,All parts are confined by international famous brand standard parts, without any welding connection, convenient remove, high safety coefficient, long life, easy to maintain.
4,Can use a manual control, digital pressure gauge shows, the computer control methods of operation
1. Use a pneumatic booster pump as the pressure source, the test pressure is high, up to 600MPa, the output pressure can be adjusted , and the boost rate can be freely set;
2. The use of multi-pump supply pressure, the output flow is greater, the test range is wider, and it can meet the pressure test requirements from 1 to 600MPa;
3. All pump valves and piping are made of stainless steel;
4. The hydraulic test bench adopts a computer plus single-chip two-level control system. The whole test process can be completed on a computer. The computer automatically generates pressure and time curves, and stores various data, and can print a test report at any time. It is also possible to manually control the test process by means of a button switch;
5. During the test process, pressure compensation can be automatically performed, which has the characteristics of stable test pressure and high pressure test accuracy;
6. The computer has automatic pressure relief and manual pressure relief dual pressure relief devices, more overpressure, overtime, leak alarm system, so that the entire equipment is more safe and reliable.