What are the applications of ODMT Pneumatic liquid pump?
Views:0 Author:Site Editor Publish Time: 2020-08-13 Origin:Site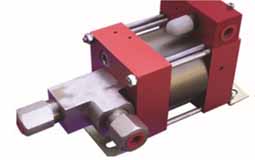 ODMT clinching equipment mainly serves the new process of rivet-free connection of sheet metal parts in the home appliance industry and the automotive industry. The main products of gas-hydraulic cylinder clinching equipment are gas-liquid booster cylinder, gas-liquid booster cylinder clinching equipment, screw nut connection mold, screw nut connection equipment, bolt and nut press, press assembly production line, etc. Sheet metal processing equipment in the home appliance industry and the automotive industry, such as pressure assembly of bearings and bushings, and rivet-free connection of plates (in some applications, it can replace welding).
Application of ODMT Pneumatic liquid pump
1-Pressure testing
2-Working holding/power clamping
3-Jacking/lifting
4-Valve actuator control
5-Hydraulic cylinder actuation
6-Press safety overload devices
7-Roller tensioning
8-Metering
9-Precision lubrication and spraying
10-Liquefied gas transfer
We specialize in high-pressure system engineering consulting, design, manufacture, installation, debugging and maintenance services. We adopt advanced pressurization technology in the world, with hydraulic pressure up to 1000 MPa and pneumatic pressure up to 210 MPa.