What are the characteristics of pressure pulse testing machine?
Views:1 Author:Site Editor Publish Time: 2020-07-31 Origin:Site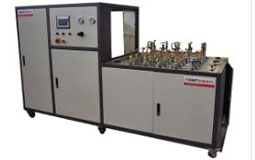 Advantages and features of pressure pulse testing machine:
(1) Equipped with simint gas driven automatic booster pump, the output pressure can be easily adjusted and controlled.
(2) All pressure parts are of international famous brands with high safety factor.
(3) All hydraulic components are made of stainless steel with long service life.
(4) Advanced technology and reasonable design. It has small volume, light weight and beautiful appearance. Pressure pulse testing machine press
we are pressure pulse testing machin manufacturers,if you want to buy pressure pulse testing machin,pls contact us.