What is Air Driven Booster Pump ?
Views:1 Author:Site Editor Publish Time: 2020-06-16 Origin:Site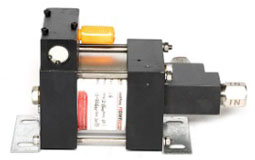 Air Driven Booster Pump Product introduction
This series of pump has single stage. To reach the needed pressure, the input gas should be pressurized to some degree in advance. The pre-adding pressure is different according to the needed maximum pressure. The maximum pressure can be up to 80Mpa. The reversing way of OMD-Series is the same as that of OMA-Series, but OMD-Series has double pump heads, which is designed based on OMA-Series. The pump is made of aluminum alloy and stainless steel. The diameter of its drive piston is 160mm, drive gas pressure≤8bar. Both pump heads can cool the exhaust gas. The pipelines which connect the two inlets and two outlets will be completed according to customers' requirements before they leave the factory
we are Air Driven Booster Pump manufacturers,if you want to buy Air Driven Booster Pump,pls contact us.