high pressure pumps for sale
Views:0 Author:Site Editor Publish Time: 2020-05-18 Origin:Site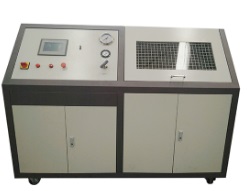 We are professional manufacturer for high pressure pumps and valves with high and stable quality, and we have made many pressure testing system solutions for many customers.
The portable miniature pressure test pump is characterized by adjustable output pressure, explosion-proof, controllable speed, light weight (easy to move by one or two people), small size, excellent performance, simple and reliable structure, and easy maintenance. Used in outdoor stress tests. It is especially suitable for high-pressure and ultra-high pressure test of pressure equipment such as equipment, valves, pipes, connecting parts and pressure vessels for outdoor drilling engineering and can be used as a portable repair tool.
The fluid pressurized control cabinet has been equipped with the fluid booster pump,the drive air water filter,the pressure regulator valve, Pressure gauges and manual pressure relieve valve. The main parts of the equipment are assembled in closed stainless steel cabinet or stainless steel frames. The pressure gauge,valve and pressure regulator will be mounted on the panel. The corresponding sign will also be marked on the panel.
The ideal working high pressure can be achieved by adjusting the driving air pressure. When the driving air pressure and output pressure are balanced, The pump will automatically stop the filling pressure, and the output pressure will remain at the preset value.
The hydraulic device can be used for pressure testing of various components, research and testing institutions and industrial pressure field.