pressure testing equipment General manufacturers
Views:3 Author:Site Editor Publish Time: 2020-04-08 Origin:Site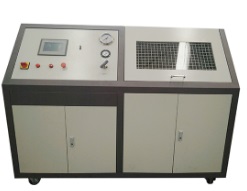 pressure testing equipment General description:
It can be matched with the proper vibration test bench to meet the comprehensive test requirements of temperature, humidity and vibration. The products are widely used in aviation, aerospace, ship, electronics, communications and other fields.
pressure testing equipment Features
1. This test machine adopts stepper motor or AC servo motor and speed control system to drive the low-noise arc synchronous belt structure. After deceleration, the lead screw is driven to load. The electrical part consists of a load measurement system and a deformation measurement system. All control parameters and measurement results can be displayed in real time on large LCD screens. Overload protection, displacement measurement and other functions.
2. By adding the corresponding auxiliary tools, could realize stretching, peeling, tearing, heat sealing and bonding of plastic film, composite film, soft packaging material, adhesive, adhesive tape, adhesive, rubber, paper and other products. Such as performance testing, can save test data and results, query and other functions.
pressure testing equipment Characteristics:
1. Integrated structure of laboratory and refrigeration system, compact and beautiful, separate design of console, easy to operate.
2.The refrigeration compressor unit and main accessories are imported in original packaging. Imported LCD color LCD touch screen controller, temperature and humidity program automatic control, equipped with R232 communication interface.
3. Different vibration table can be selected according to the requirements of users, so as to ensure the cold, ripe and air seal, and at the same time, the vibration table has good vibration characteristics.