pressure testing equipment for sale
Views:0 Author:Site Editor Publish Time: 2020-04-14 Origin:Site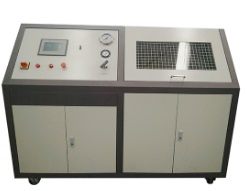 Pressure testing is used to parts for strength and leaks prior to use. There are a variety of pressure test processes, each of which provides a different, specific check on the pressure vessel. Pressure testing is extremely important to ensure the proper operation and safety of a pressure vessel.
Pressure testing equipment establishes the foundation to your leak detection equipment arsenal. It is crucial for two important steps in the leak detection process: First to determine if a section of plumbing is or isn't leaking, and secondly, to assist in pinpointing the exact location of the leak if one is identified.
we are pressure testing equipment manufacturers,if you want to buy pressure testing equipment,pls contact us.