pressure testing equipment manufacturers
Views:1 Author:Site Editor Publish Time: 2020-04-21 Origin:Site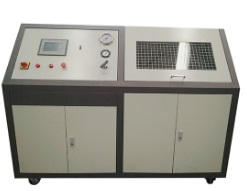 As a leading manufacturer of quality high pressure testing products, we are proud to offer a wide range of solutions for virtually any industrial application.
we offer customized high pressure generating systems, test vessels or reaction chambers, measurement devices, and other specialized tools. We are confident that our state-of-the-art technology and dedicated team of high pressure experts can provide a customized solution for your pressure testing needs.
Our state of the art high pressure testing equipment and experienced engineers are able to evaluate various oil or water/water glycol hydraulic equipment and systems used in the mining, industrial, marine and subsea industry. These may include hose, pipe/tube, pumps, valves, HPUs, accumulators, umbilical reelers and control panels.
we are pressure testing equipment manufacturers,if you want to buy pressure testing equipment,pls contact us.