various pneumo-hydraulic pressurization systems for sale
Views:0 Author:Site Editor Publish Time: 2020-05-11 Origin:Site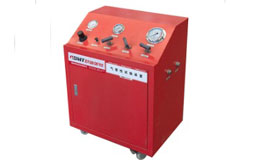 We can produce various pneumo-hydraulic pressurization systems according to customers' requirements. These systems can be used for pressure tensioning, hydraulic drive and control, hydraulic test, etc. The maximum pressure can be up to 6400bar.ODMT Pneumo-hydraulic Pressurization System has compact structure and is easy to operate. What the users need to do is only to lead the drive air to the liquid port, then adjust the pressure regulating valve of the drive circuit to reach the needed working pressure.
Product Description
The fluid pressurized control cabinet has been equipped with the fluid booster pump,the drive air water filter,the pressure regulator valve, Pressure gauges and manual pressure relieve valve. The main parts of the equipment are assembled in closed stainless steel cabinet or stainless steel frames. The pressure gauge,valve and pressure regulator will be mounted on the panel. The corresponding sign will also be marked on the panel.
The ideal working high pressure can be achieved by adjusting the driving air pressure. When the driving air pressure and output pressure are balanced, The pump will automatically stop the filling pressure, and the output pressure will remain at the preset value.
The hydraulic device can be used for pressure testing of various components, research and testing institutions and industrial pressure field.
Booster pump have a variety of pressure ratios, These series of pumps are ideal choice for various hydraulic power operations. The maximum operating pressure up to 640Mpa.
The output pressure is produced by pneumatic booster pump, Therefore the electric connection will not be necessary.
The structural design of the Fluid pressurized control cabinet are compact and according to the special requirement of customers, Combined the air driven fluid booster pumps,valves ,control switches and other precision accessories are assembled in the frame or closed cabinet.
The pump will stop working automatically when the output pressure reaches the preset value, The pump will start automatically when the outlet pressure drops slightly or the air drive pressure increases.